Decades of experience make it look effortless, but the detail of each individually forged and finished Czech Glass button is a story in itself.
My thanks to Nirvana Beads Designer Cynthia Shanti Morales for use of her photos of our guys at work. I look forward to updating with the page my own images when I visit Jablonec this fall.
Please play fair and respect the rights of the photographer. These images are used with permission and may not be shared or used for any other purpose.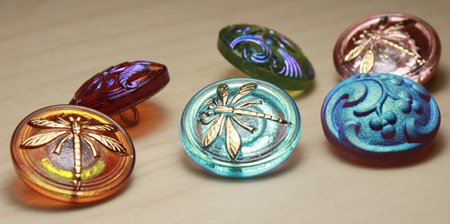 Although the button molds are handed down through generations of glassmakers - the classic patterns work just as well today. "Outlander" fans make it hard for me to keep the Amber Dragonfly earrings in stock.